Best & Brightest
Mejor y más brillante

Preschool Screening 2022
Examen Preescolar 2022

Child Passenger Safety Class June 9
Clase de la seguridad del niño pasajero 2 de junio

GCC Student iPad Collection May 16-20
Coleccion de iPads de estudiantes del GCC 16-20 de mayo
May 26
Bilingual Parent Advisory Council (BPAC)
Comité de Asesoría de padres bilingües
08:45a
May 30
No School - Memorial Day - District Closed
No hay clases - Día Conmemorativo a los Caídos en Guerra
June 3
Last Day of School - Half Day for Students - School Improvement
Último día de clases - Medio día de asistencia estudiantil - Mejoramiento escolar
August 22
Institute Day
Día del instituto
August 23
Institute Day
Día del instituto
August 24
First Day for Students
Primer día para los estudiantes
September 5
No School - Labor Day - District Closed
No hay clases - Día del trabajo - Distrito cerrado
September 15
Half Day for Students - School Improvement
Medio día de asistencia estudiantil - Mejoramiento escolar
October 10
No School - Columbus Day - District Closed
No hay clases - Día en conmemoración a Cristóbal Colón - Distrito cerrado
October 19
Half Day for Students - School Improvement
Medio día de asistencia estudiantil - Mejoramiento escolar
October 20
No School - Parent Teacher Conferences
No hay clases - Conferencias de padres
October 21
No School - Parent Teacher Conferences
No hay clases - Conferencias de padres
November 8
No School - Election Day - District Closed
No hay clases - Día de elección - Distrito cerrado
November 23
No School - Thanksgiving Break - District Closed
No hay clases - Vacaciones de Acción de Gracias - Distrito cerrado
November 24
No School - Thanksgiving Break - District Closed
No hay clases - Vacaciones de Acción de Gracias - Distrito cerrado
November 25
No School - Thanksgiving Break - District Closed
No hay clases - Vacaciones de Acción de Gracias - Distrito cerrado
December 16
Half Day for Students - School Improvement
Medio día de asistencia estudiantil - Mejoramiento escolar
December 23
No School - Winter Break
No hay clases - Vacaciones de invierno
December 26
No School - Winter Break
No hay clases - Vacaciones de invierno
December 27
No School - Winter Break
No hay clases - Vacaciones de invierno
Letter from Principal
Stephanie Steinbrecher
Greetings Jaybird Families and Friends!
What a year 2020-2021 has proven to be! Some would even call it an ADVENTURE, but 2021-2022 for our school is all about bringing the Adventure to East Aurora School District 131 at Gonzalez Child Center.
Carta de la Directora
Stephanie Steinbrecher
¡Saludos familias y amigos de Jaybird!
¡Qué año 2020-2021 ha resultado ser! Algunos incluso lo llamarían una AVENTURA, pero el 2021-2022, para nuestra escuela, se trata de traer Adventures al Distrito escolar 131 del este de Aurora en el Gonzalez Child Center.
Gonzalez Child Center Updates
Alrededor de East Aurora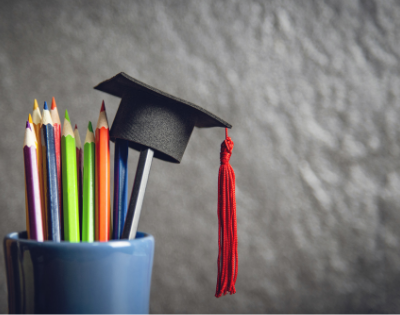 May 24, 2022
2022 Middle School Promotion Ceremonies
Las ceremonias de promoción de escuelas secundarias 2022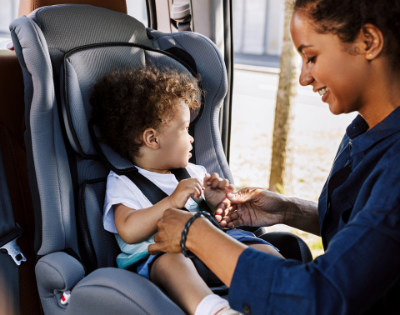 May 23, 2022
Child Passenger Safety Class June 9
Clase de la seguridad del niño pasajero 2 de junio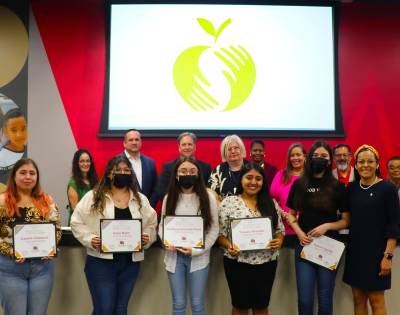 May 19, 2022
Senior Students Selected as Golden Apple Scholars
Estudiantes de último año seleccionadas como Becarias de la Manzana de Oro (Golden Apple Scholars)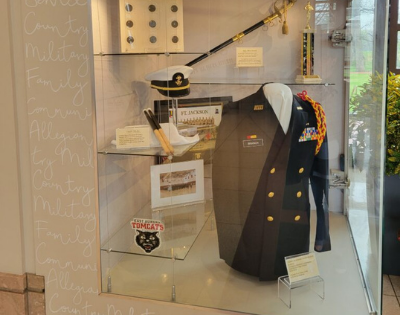 May 17, 2022
Illinois Military History Museum Recognizes, Showcases District Student
Museo de Historia Militar de Illinois reconoce y exhibe a un estudiante del distrito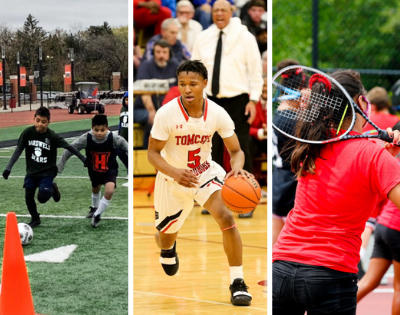 May 10, 2022
Summer Sports Academies, June and July Sessions
Academias deportivas de verano, sesiones en junio y julio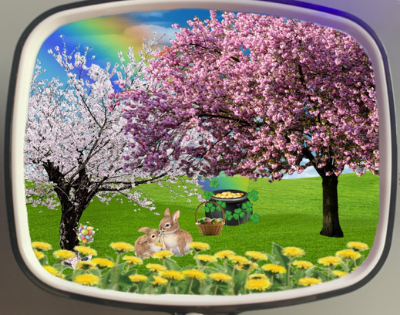 May 9, 2022
First-year Digital Photography Student Places in Contest
Estudiante de primer año de fotografía digital coloca lugar en un concurso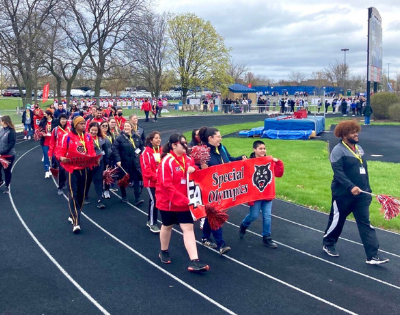 May 9, 2022
Tomcat Athletes Represent District 131 at Special Olympics Competition
Atletas Tomcat representan al Distrito 131 en la competición de las Olimpiadas Especiales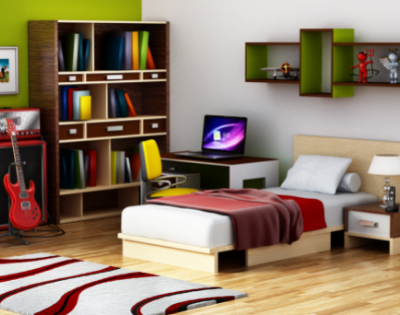 May 8, 2022
Wake Up Call Thursday, May 12
Wake Up Call jueves 12 de mayo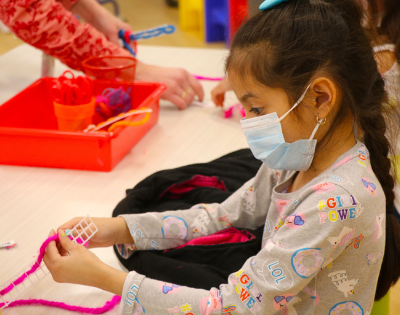 May 4, 2022
Art Studio at Benavides STEAM Showcases Creative Learning Environment
El estudio de arte de Benavides STEAM muestra un entorno de aprendizaje creativo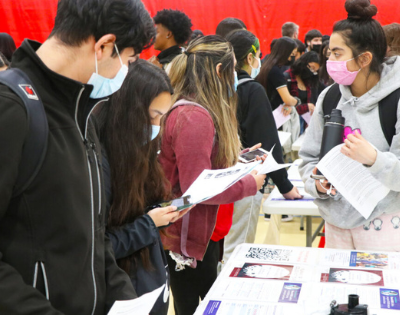 May 3, 2022
Career Fair at East High Field House
Career Fair at East High Field House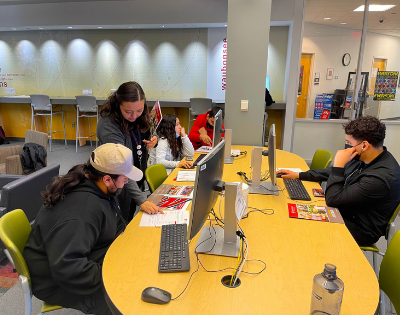 May 3, 2022
Students Explore Their Futures in the Tomcat College & Career Center
Estudiantes exploran sus futuros en el Centro de universidad y carreras para Tomcats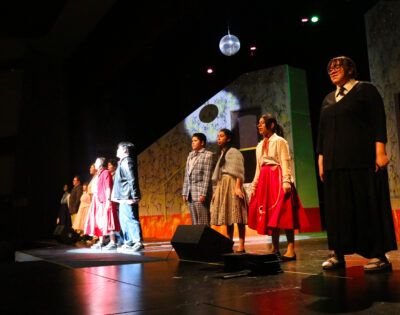 May 2, 2022
Zombie Prom Dances with Life
El baile de zombis baila con vida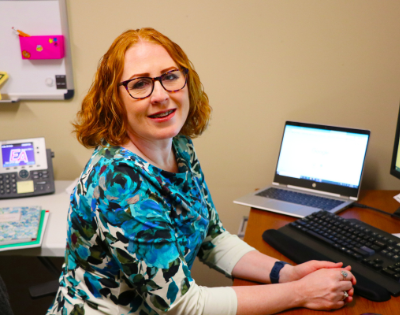 May 2, 2022
Tracy Warwick of FRMA Awarded Kane County Student Personnel Award
Tracy Warwick, de la escuela de FRMA, recibió el Premio Personal Estudiantil del Condado de Kane
Happening at Gonzalez Child Center